Single File Saturdays 2015
SFS # 4: The Gods smiled down upon the Classic City this past weekend when a large group of riders made their way out on the SFS Spring Classics for the Danielsville-Colbert Semi Classic. Close to 20 riders toed the line for 60 magnificent miles through the gorgeous Georgia countryside. Returning to the SFS for the first time this year was none other than Matt "BIG WATTS" Whatley. Also in attendance was Cal Hooten, Liam Ainslie, D. Dunn, and many more. But when it came down to the final sprint, Showstopper once again proved to be the strongest by taking his second SFS win on the young season. With the win, Showstopper moves into sole possession of 1st place in the overall standings. Matt Whatley took 2nd and Liam Ainslie squeaked by for 3rd. There's still a lot to be sorted out on the SFS and the leaderboard is as crowded as ever! Join us this Saturday for SFS #5 and a ride you surely do not want to miss! Rumors are also swirling that Frank Crumley may return for this weekend's ride after a week of tanning at a nude Beach in the Capri Islands.
/s/ The Immodest Lean Bean
This week's ride will also be sponsored by Ryan Wolfe (Wolfe-Pack Coaching) and the winner will receive an INFINIT Nutrition sampler pack along with a special discount code.
1) D. Dunn - 3 points
2) M. Whatley - 2 points
3) L. Ainslie - 1 points
Overall Standings for SFS Spring Classics:
1) Damien Dunn - 6 points
2) Brent Betz - 3 points
2) Jordan Heimer - 3 points
4) Rol Miller - 2 points
4) Frank Crumley - 2 points
4) Erik Kirk - 2 points
4) Matt Whatley - 2 points
4) Liam Ainslie - 2 points
9) Fat Cappy - 1 point
9) Dean (from Boston) - 1 point
9) Kalen Scholz - 1 point
9) Eric Murphy - 1 point
9) Chris Robinson - 1 point
9) Stacy Robinson - 1 point
SINGLE FILE SATURDAY SPRING CLASSICS: THE COMMERCE SEMI CLASSIC
When: Saturday, April 18
Where: The Hub / Jittery Joes (5 Points)
Time: 9 a.m. (window open)
Length: 62 miles / @ 3 hours
Exit Route: Milledge > Prince > Access Road > J River
Store Stop: Commerce (@ Mile 40)
Pee Break: approx. 1 hour in
Mid-ride Sprints: none
Final Attack Zone / Sprint: 3 miles: Nowhere Road / Jackson County sign - opens at Sanford Community- straight shot.
Interactive directions: http://ridewithgps.com/routes/7492340jd
Parking: Ride your bike down, park on a side street nearby.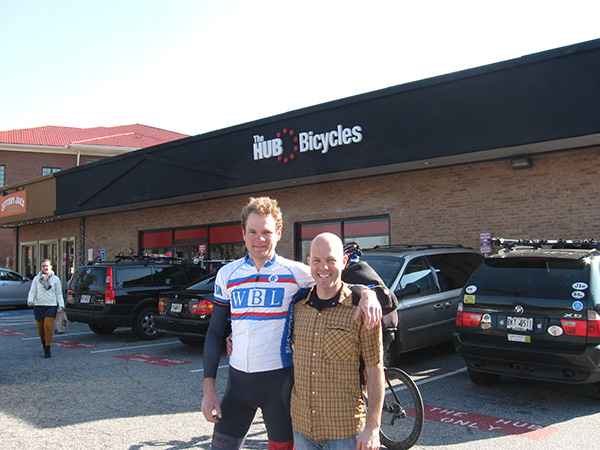 Clark and B Malloy, proprieter of the Hub.
FINAL OVERALL STANDINGS (see "read more" link below)
---
WBL 2014-15 Calendar
Special Shoutout to all our sposnsors who keep the wheels on the bus rolling:
Overall Leader's Jersey sponsored by the HUB, and individual rides sponsored by Atlantis Hydroponics, Porterfield Tire, Team Type 1, Ken Bike Law, Classic City Bread, Cappy's Custom Cabinets, Hamilton Ryker IT, Independent Bakery, Team Mission Source Juniors, Gruber Images, Morgan and Thomas Brown and others tba. Featuring the Team Mission Source Juniors Ladies Final Sprint Competiton ($700!) Individual Sprints sponsored by Condor Chocolates, Team Type 1, Pave Clothing, Ted's Most Bet, College Transitions, The Gear Attic, A Taste of Athens and more tba! SAG Vehicle provided by Lexus South. Don't be left out in the cold, become a sponsor and earn rewards in heaven.
---