Single File Saturdays 2015
May 23: Report Comming soon! DD Dunn in command! Updated standings coming soon! Join us this Saturday for the FINAL SFS Spring Series Ride. Starting June 6: THE INFAMOUS SFSSSS (Single File Saturday Summertime Sprint Series)
The Finale: SINGLE FILE SATURDAY SPRING CLASSICS: MONROVIA
When: Saturday, May 31
Where: The Hub / Jittery Joes (5 Points)
Time: 9 a.m. (window open)
Length: 70 miles / @ 3.5 hours
Exit Route: Milledge > Prince > Whitehead > Roberts > Lavendar > Tallassee
Store Stop: Mile 37 (Monroe)
Pee Break: approx. 1 hour in
Mid-ride Sprints: Statham City Limit (Mile 17)
Final Attack Zone: Bishp > Watkinsville: 2 mile staright shot / line in road
Interactive directions: http://ridewithgps.com/routes/8071516
Parking: Ride your bike down, park on a side street nearby.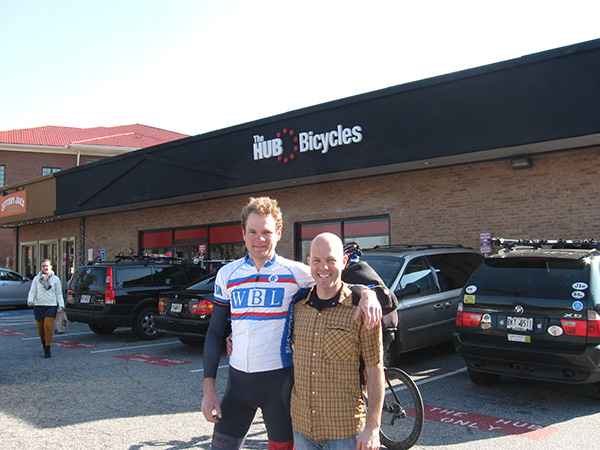 Clark and B Malloy, proprieter of the Hub.
FINAL OVERALL STANDINGS (see "read more" link below)
---
WBL 2014-15 Calendar
Special Shoutout to all our sposnsors who keep the wheels on the bus rolling:
Overall Leader's Jersey sponsored by the HUB, and individual rides sponsored by Atlantis Hydroponics, Porterfield Tire, Team Type 1, Ken Bike Law, Classic City Bread, Cappy's Custom Cabinets, Hamilton Ryker IT, Independent Bakery, Team Mission Source Juniors, Gruber Images, Morgan and Thomas Brown and others tba. Featuring the Team Mission Source Juniors Ladies Final Sprint Competiton ($700!) Individual Sprints sponsored by Condor Chocolates, Team Type 1, Pave Clothing, Ted's Most Bet, College Transitions, The Gear Attic, A Taste of Athens and more tba! SAG Vehicle provided by Lexus South. Don't be left out in the cold, become a sponsor and earn rewards in heaven.
---