WBL 2015
NEWS FLASH: CORRECTION: WE RECEIVED A STERN LETTER FROM THOMAS MANX MAN'S LAWYER EARLIER TODAY DEMANDING A CORRECTION: THE LAST WIN WAS MANX MAN'S TWELFTH NOT HIS ELEVENTH AND WE ADMIT OUR MISTAKE!
February 6: WBL # 11: The Independent Baking Company Gratis Classic:
Thomas Manx Man Brown won his 12th lifetime WBL ride with a powerful mule-kick at the end of a rock-em, sock-em Final Attack Zone that saw attacks flying fast and furious as Zealots tried desperately to launch the winning move. On the final 2 miles of the grueling Flat Rock Road Attack Zone Manx Man covered or bridged to all the crucial splits, playing possum by keeping his cards close to the vest, and then exploding from the front group to take the win over an impressive Ian String Bean Garrison. The teenaged Garrison came close to picking off a win for the second week in a row and because he won the day for the Non Pros, actually scored more points (17) than Manx Man (14). With his last 2 stellar rides, String Bean has shot up the HUB OVERALL Leader Board into 7th place and has positioned himself for a podium position (Top 5). But the Frazier Firebrand Megan Heath once again showed why she is the dominant rider of WBL 2016 as she soloed across the line to take the Lady's final sprint. Heath has been unstoppable this season as she has led in the HUB OVERALL competition from start to finish. Look for this young lady to cut a wide swath as she plows through the competition in the years to come. But the day's biggest winner may have been the Cuban Missile Frank Travieso who won both intermediate sprints and with his 4th place finish, tallied more points than anyone (18). Travieso trails Heath by 9 points and because the Frazier Firebrand's race season starts next weekend, the Cuban Missile may have positioned himself to steal the Overall Win on the final event, the Gruber Images Go Forth and Hammer Bowman Classic.
When the feisty group of 55 hardcore Zealots hit the Flat Rock Road Attack Zone at the end of the 80 mile, 4-hour day, there were two dozen contenders who desperately wanted to add this WBL win to their palmarès. But no one could shake clear from the powerful group during the first 4 miles of the 6-mile Attack Zone though several combatants were pummeling the pack with body blow after body blow. But, as always, in the last 2 miles, the diabolical Flat Rock Road itself, the grupetto shattered into a million little pieces. The first to light the fires were Jered Gutcheck Gruber, Brick Dangerblade and Garrison as they shot away on the first hill at the beginning of Flat Rock. They were quickly joined by the vigilant Manx Man and the Big O Oscar Clark. These 5 fell into formation and rotated and it looked like they were gone daddy gone. But Travieso and Andy Scary Man Scarano dug into the dark corners of their psyche and managed to bridge to the five enemy combatants with an epic display of power. Because of the potency of this group, they hesitated for a moment, gauging the other's strength. In this split second Scarano flew off the front and opened up a 5 second gap 1 mile from the line. Scary Man put his head down and hammered and looked to be heading to the greatest win of his impressive career. But the argus-eyed Brown knew this was the move to make and he managed to bridge to Scary Man ½ mile from the line. These heavyweight contenders were pounding each other in a good, old fashioned barroom brawl. And then the 5 chasers started to make up ground on the 2 escape artists but just as they closed, Brown hit the others with his massive mule kick and shot out of the group and took the win by 3 meters over Garrison. Scary Man held on for an impressive 3rd with Travieso, Dangerblade. Clark and Gruber following.
In the fight for the HUB Overall Competition, Dylan Cantrell also picked up valuable points and sits solidly in 3rd. The Top 5 is still up for grabs as J Gruber, Swaim, Kaiser, Garrison and L Morgan still have a shot at the millions in prize money and endorsements that follow a podium position. Stay tuned as the fireworks are sure to continue as WBL 2016 approaches its final ride.
Finish (Flat Rock):
Thomas Brown: 10 pts.
Ian Garrison: 8 pts
Andy Scarano: 6 pts.
Frank Travieso: 4 pts.
Brick Dangerblade: 3 pts.
Oscar Clark: 2 pts.
Jered Gruber: 1 pt
Non Pro Finish (Flat Rock):
Ian Garrison: 5 pts.
Frank Travieso: 4 pts.
Dylan Cantrell: 3 pts
Huntley Nash (tie): 2 pts
Sean Philyaw (tie): 2 pts
Harrison Nguy: 1 pt
Ladies Finish (Flat Rock):
Megan Heath: 5 pts.
Asley Gruber: 4 pts.
Jane Tullis: 3 pts
Loren Morgan: 2 pts
Madeleine Pearce: 1 pt
Kathleen LaPorte: 1 pt
Emily Cox: 1 pt
Ladies Sprint (Oconee County/High Shoals):
Kathleen Laporte: 3 pts.
Lauren Morgan: 2 pts
Megan Heath: 1 pt
Non Pro Sprint (Gober Hill):
Frank Travieso: 3 pts.
Dylan Cantrell: 2 pts
Davis Branyon: 1 pt.
Pro Sprint (Antioch Hill):
Frank Travieso: 3 pts
Dillon Swaim: 2 pts.
Austin Ulich: 1 pt
2016 HUB Overall: (2-6-16) (hit "read more" link below for complete listing)
101 pts: Megan Heath

92 pts: Travieso

81 pts: Dylan Cantrell

63 pts: Gutcheck Gruber

63 pts: Dillon Swaim

58 pts: Willem Kaiser

58 pts: Ian Garrison

58 pts: Jane Tullis

57 pts: Loren Morgan

56 pts: Ashley Gruber

52 pts: Sean Philyaw

48 pts: Madeleine Pearce

47 pts: Harrison Nguy

47 pts: Huntley Nash

45 pts: Frank Crumley

45 pts: Andy Scarano

45 pts; Austin Ulich

44 pts: Brendan Cornett

44 pts: Natty Dunn

44 pts: Bob Heath

44 pts: David Heath

44 pts: Blake Wilson

41 pts: Jim Baynes

40 pts: David Goodman

38 pts: Thomas Brown

38 pts: Emily Cox

37 pts: Nicholas Fedenco

37 pts: Kathleen Laporte

36 pts: Oscar Clark

36 pts: Kevin O'Donnell

36 pts: Daniel CR Paniconi

35 pts: Scott Morris

35 pts: Davis Branyon

35: Josh Smith

35 pts: Sara True
WBL Ride # 12: February 6: The Finale: The Gruber Images Go Forth and Hammer Bowman Classic (http://www.gruberimages.pro/)
When: Saturday, 13 February
Where: The Hub / Jittery Joes (5 Points)
Time: 10 a.m. (window open)
Length: 85 miles / 4 hours
Points 4: 1 per hour (must sign in)
Exit Route: Lumpkin > Sanford Stadium > Arch Street > Olympic Drive
Store Stop: Bowman (Mile 41)
Pee Break: approx. Mile 22 (Watson Mill)
Intermediate Sprints:
**(Mile 10) Ladies Sprint: Smithonia Road Hill Jam: 200 meter uphill sprint to WBL sign before lefthand turn on Beaverdam (sponsored by G Sommerville)
3 pts. / $25
2 pts.
1 pts.
**(Mile 54): Non Pro: Hwy 191 Hill Jam: Pack will turn right off Wildcat Bridge Road onto Hwy 191. Ride down steep hil. Sprint zone opens at bottom of hill. Sprint 300 meters to WBL sign at top. (Sponsored by G Sommerville)
**(Mile 75): Pro Sprint: Seagraves Mill Hill Sprint (inside Final Attack Zone) - sprint line is at the top of Seagraves Mill Road before final right turn on Nowhere Road. Sprint to WBL sign. (Sponsored by G Sommerville)
Final Attack Zone: Erastus Church-Seagraves-Nowhere Road Final Attack Zone (Mile 70 / 9 miles): Opens when pack turns right onto Erastus Chruch Road. Ride 2 miles and turn left on Seagraves. Ride 4 miles and turn right on Nowhere Road. Ride 3 miles to finish line (Jackson County sign / line in road): $100 - $75 - $25 // Points:10-8-6-4-3-2-1)
Ladies Team Mission Source Finish:
5 pts. / $25
4 pts / $25
3 pt. / $25
2 pts.
1 pts
Non Pro Finish:
5 pts / $25
4 pts. / $25
3 pt / $25
2 pts
1 pt
Interactive directions: https://ridewithgps.com/routes/12138578
Text Directions: print from Facebook (coming)
Parking: Ride your bike down, park on a side street nearby.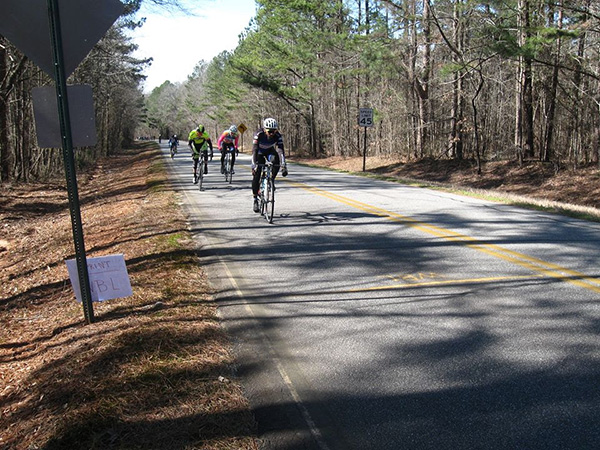 Travieso storms Antioch Hill followed by Swaim and Ulich
2015-16 Standings:Hit "Read More" link!
---
WBL 2015-16 Calendar
2015-16 WBL Sonsored by: Hub Leader's Jersey with the Team Mission Source Juniors Ladies Final Sprint and featuring the Greg Sommerville Sprint Series as well as other sponsores listed below. Hop on the bus: sponsor a ride or a sprint, it's never too late!
2015-16 Calendar
(*subject to tweaking due to despicable conditions):
2015-16; THANKS TO ALL OUR SPONSORS: Overall Leader's Jersey sponsored by the HUB, and individual rides and sprintssponsored by Team Mission Surce Juniors, Greg Sommerville, Atlantis Hydroponics, Porterfield Tire, Team Type 1, Ken Bike Law, Classic City Bread, Gruber Images, Clay Parks Law, Cappy's Custom Cabinets, ISymphony, Independent Baking Company, Full Circle Real Estate, Erin Winter and Jeff Shirey, College Transitions, Southeastern Cycling. SAG Vehicle provided by Lexus South. The WBL gurantees those who give will receive a gift certificate for 30 minutes in heaven before heading to the proper home.
---