Winter Bike League 2015
SFS # 2 was a cold and windy affair as 15 riders made their way out on a frosty morning where the only thing colder than the temperature was the crooked looks and insults thrown at each other in the minutes leading up to the start. The pack ventured south via Simonton Bridge where the gaggle of riders would skirt through Good Hope and Gratis before making their way back through Statham and the final infamous attack zone on Mary Collier and the backside of the Pink Church. If it was the hope of good fortunes they were looking for, they would receive none as the gods whipped up a strong wind that would pound the riders mile after mile. By the time the pack reached Gratis, Frank "The Tank" Crumley was all but ready to raise the white flag, but unfortunately he forgot to pack his cellphone. There would be no respite for CrumDawg Millionaire.
The pack left Gratis in a hurry and Christian Foster had had enough. He got on the front and pegged it hard for several miles. By this point riders were starting to come off the back, but given the strength of our riders, they fought back tooth and nail to reach the back of the long line before the group descended down upon Bearcat Reservoir. As the group entered the attack zone, Trivette ratcheted up the speed and riders began cursing out loud. Dean, a visitor from the northern yankee tundra otherwise known as Boston, was the first to attack out of the pack. He shot off like someone in Boston screamed "last flight leaving to the Caribbean!" It was a valiant effort but the group wouldn't let him get away. Several riders stomped on the front until Dean was back in the fold. Brent Betz threw down perhaps the biggest bet of the day when he let it ride at the bottom of Cane Creek Rd. We should have known he was a skilled poker player when he came around everyone wearing gold chains, a fancy wrist watch and mirror tint glasses. Brent even had the audacity to look back and smile, showing a mouth full of platinum. I swear I thought he might have been a rapper by this point. It was clear that Brent was racing for the top step and no one was gonna catch him. Crumley somehow managed to get 2nd after fighting his way back to the front. Some say he intentionally hit other riders to advance. We'll truly never know. The Bostonian held onto 3rd and everyone rejoiced when this one was over.
Through all the lies, backstabbing, and slander, only one thing is clear -- The Spring SFS Series is off to a roaring start.
1) Damien Dunn - 3 points
2) Frank Crumley - 2 points
3) Dean (from Boston) - 1 point
True Grit - Kalen Scholz - 1 point
Standings for SFS Spring Classics:
1) Damien Dunn - 3 points
3) Frank Crumley - 2 points
5) Dean (from Boston - 1 point
5) Kalen Scholz - 1 point
SINGLE FILE SATURDAY SPRING CLASSICS:
When: Saturday, April 4
Where: The Hub / Jittery Joes (5 Points)
Time: 9 a.m. (window open)
Length: 65 miles / @ 3 hours 15 minutes
Exit Route: Milledge > Prince > Whitehead > Roberts > Lavendar > Tallasee
Store Stop: Hoschton (@ Mile 31)
Pee Break: approx. 1 hour in
Mid-ride Sprints: none
Final Attack Zone / Sprint: Pink Church: Attack Zone opens when group turns right at Alligator Pond. 1 mile to the line.
Interactive directions: http://ridewithgps.com/routes/7352736
Parking: Ride your bike down, park on a side street nearby.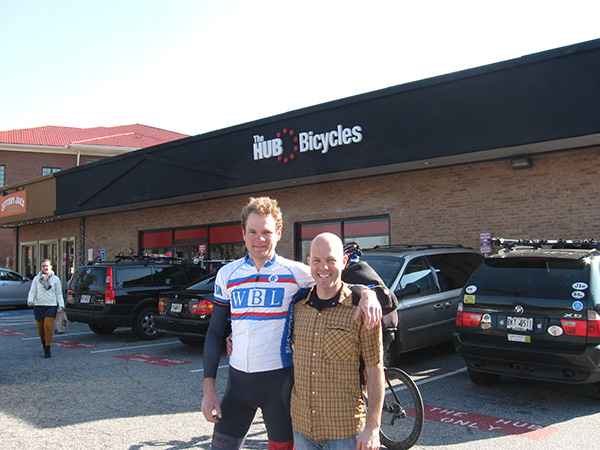 Clark and B Malloy, proprieter of the Hub.
FINAL OVERALL STANDINGS (see "read more" link below)
---
WBL 2014-15 Calendar
Special Shoutout to all our sposnsors who keep the wheels on the bus rolling:
Overall Leader's Jersey sponsored by the HUB, and individual rides sponsored by Atlantis Hydroponics, Porterfield Tire, Team Type 1, Ken Bike Law, Classic City Bread, Cappy's Custom Cabinets, Hamilton Ryker IT, Independent Bakery, Team Mission Source Juniors, Gruber Images, Morgan and Thomas Brown and others tba. Featuring the Team Mission Source Juniors Ladies Final Sprint Competiton ($700!) Individual Sprints sponsored by Condor Chocolates, Team Type 1, Pave Clothing, Ted's Most Bet, College Transitions, The Gear Attic, A Taste of Athens and more tba! SAG Vehicle provided by Lexus South. Don't be left out in the cold, become a sponsor and earn rewards in heaven.
---