Haute Route Asheville 2019
Haute Route Asheville 2019
I rode Haute Route (HR) Rockies in the summer of 2018 and I liked the format—a series of long, hard rides of six to seven hours interspersed with long, difficult timed sections (i.e., racing) in stellar terrain over the course of several days. Some events like HR Rockies are 7 days while others, HR Asheville for example, take place over 3 days. HR is expanding its reach and now hosts multi-day events in the Alps, the Dolomites, Norway, Mexico, Oman, San Francisco, and in its second year in 2019, HR Asheville (HRA) in late May.
HRA's format is a three-day event with two days of approximately 100-mile rides with 10,700 feet of climbing on Day 1 and over 9,000 feet on Day 2. A 5.6-mile, 1,300-foot hill-climb time trial up the famous Town Mountain Road closed out the event on Day 3. There were four timed sections on each of the two road days totaling 65 miles and 44 miles respectively. Naturally, the profiles of the timed sections were jagged and included the most difficult climbs in the area and since drafting, group riding, pace lining and attacking were allowed, the pack was racing full gas whenever the clock was ticking. The timed sections not only included the hardest climbs in the area, but also featured steep descents that dropped into tight turns and snaky curves, meaning a rider had to know how to handle his or her horse at all times and in all conditions simply to survive, not to mention excel.
HR also ranks riders by age and gender, making it more competitive for all. HR charges a premium for its product, but provides well-supported, well-marshalled, highly competitive, epic rides in scenic locations. In my life I have slept six racers in a hotel room or friend's living room on many occasions, I've lied to the Delta ticket agent about the bike in the bag to save the extra fee several times (it's sculpture), and once I felt it a huge surge of relief when I scored 30th place in a criterium, the last paying spot, and along with it one-hundred bucks—I was on a team and needed to earn my keep. But now I'm 57 years old and I'm more discriminating (softer) and if I am going to suffer, I allow myself a few minor creature comforts. So even though I am by no means a climber, I do love the mountains, so I pulled the trigger and registered for HRA 2019 which I considered it a deposit into the Bank of Life, one I hope will bear interest at a healthy rate in the weeks, months and years to come.
Did I mention I have grandiose schemes and designs? I also registered for Mount Mitchell on Monday, the day after HRA ended with its Day 3 time trial. Mount Mitchell is a famous 103-mile road event with over 10,000 feet of climbing that tops out at Mount Mitchell, at slightly over 6,600 feet, the highest point east of the Mississippi. It's a race from downtown Spartanburg to the top and I would be riding with about 1,000 others, most of whom would arrive with fresh legs and ready to pounce. You may be wondering if I were perhaps delusional. It is a legitimate question and one that will be expounded upon in the pages that follow.
The Flying Frenchman from Champagne, Cyril Deseveux, and the Left Coast German, Erik Gruenwedel, also decided to accompany me into the mountain terrain of Western North Carolina, for these two Brothers of the Blacktop and fellow flagellants also enjoy subjecting their bodies to extreme punishment, especially if such abuse comes in a picturesque location. "Give me death but not without beauty," the German Gruenwedel, quoting Goethe, is fond of saying. Experienced cyclists came from all over the US and even Europe to ride these ancient hills but there would also be other riders I knew riding the event (John Murphy, Oliver Quinn and Noah Nwinski) while still other buddies helped run the event (Dirty D Darryl Prillyman and Master of Ceremony Ruben). And making the weekend seem like I was getting away with stealing was the fact that Gay would be joining me in Asheville Saturday night after Day 2, and with a short time trial scheduled on Day 3, more or less a rest day, no telling what might break out Saturday night in downtown Asheville. I told Gay I was ready to party…if I could be in bed by nine.
On Thursday, May 16, after a brief hearing in Walton County, Cyril and I loaded up his car and hit the road for Asheville. When we arrived 3 hours later, we registered, picked up a few goodies, attended a mandatory meeting, and headed for the Air B & B about 2 miles away. We hit the hay early, our 5:30 AM wake up would arrive soon.
Day 1 (Asheville)
The HR rides start at 7 AM so the Frenchman and I rose early and pedaled 2 miles to the start in downtown Asheville in a dusky light where we met our German friend along with over 300 other cycling companions, over 200 of whom were riding the main event, that is the two 100-mile routes plus the TT. Setting out on the day's misadventure it was a cool 55 degrees, the skies were overcast, the sun was still low, and the pavement was glistening with the previous night's rain, so though I was in shorts I was wearing arm warmers and a vest. It was only 3 miles to the day's first timed section and though we cruised at a reasonable speed, there was an electricity buzzing through this large group as riders swarmed, bobbed and jockeyed for position.
Every large pack of cyclists has its own energy, its own character, its own identity, and no two are the same. A pack, like a coral reef (or an angry mob), is also a living, breathing organism made up of individual riders that bring varied nuances, experiences, strengths and vibes to the whole. A large group of riders is not a static condition either, it's always changing its form and shape as individual riders move and shift position over varied terrain. Some riders advance by accelerating up the edges while others at the front are absorbed back into the body as riders circulate in the whole like beans in a blender. And even though no two packs are the same, certain patterns and rhythms do repeat themselves in similar situations and recognizing and anticipating an "occurrence" (i.e., a violent attack or a major obstacle in the road, i.e,, a mountain) can help a rider know when it's crucial to move to the front.
Also, after a few years of riding in large fields a rider can sense not only the character of a particular pack, but also its verve, and whether or not a pack is strong and whether or not it's motivated are two key but distinct elements. For instance, a couch potato can sit in with little trouble in a strong group that's not motivated to ride, but when a large, powerful group is inspired, these are the days a road cyclist lives for, and I sensed quickly that the HRA pack was not only packed with young gunslingers and Belgian hammers, but it also was jacked-up, its gusto impossible to conceal—there were some strong cats here who were ready to fight, albeit in a sporting way. I feared for my life.
I could tell this group was bullish not by looking at my speedometer, but by actually feeling the pack's power as it pulled me forward. But I couldn't ponderate on the group's strength for long because about 12 minutes after we rolled away from the start in downtown Asheville my body went into hyper-shock, lactic acid flooded my legs, and I was quickly at my threshold as we hit the first race section. I'll be damned, I thought, I haven't even enjoyed my morning large Americano from Jittery Joes, at this point on life's timeline, a crucial creature comfort I've become daily accustomed to because the exact placement of the boundary stone on the approaching end of the life's timeline remains opaque, so to miss an expresso for even one day is a crying shame.
The pack last summer at HR Rockies was also very strong with several current and former top notch pro riders, but the HR Asheville field as a whole was deeper and even a level above. In fact, this was the strongest large group I have ridden with in several years. The first timed section (or race!) was 12 miles in length and finished at the summit of Elk Mountain. The group was immediately strung out single file as rips and open spaces quickly formed up and down the line. I eventually settled into strong 7-person group but after a couple of miles could not hold the tempo and dropped back as the Flying Frenchman continued effortlessly up the climb. The first climb in the first timed section on Day 1 was a sign that Cyril was riding exceptionally strong—he would continue to so for the entire three days.
On the following descent we regrouped before tackling the second timed section, a 15-mile section that ascended Cane River Gap but that ended not at the summit but at the bottom of its tight, twisty descent 5 miles later. On the way up the climb the road changed to dirt and gravel and it was still damp and wet; there was also a fine mist in the air but we were climbing hard and I was warm and settled in and the bunch quickly spread out on the gravel section with Cyril again sailing away. The gravel ended about 4 miles later but as the road shifted to blacktop the skies opened up and a cold, hard rain began to fall, so I played it safe and took my time down the steep corkscrew and arrived safely at the bottom and an eight-person group quickly formed of riders who'd done the same. Many times when it's raining over the summit of a climb a person will ride out of the rain on the descent but not so today as the heavy downpour continued, soaking us through and through. After another 8 miles or so the rain did slowly sputter to a stop, thought it would flare up again for a minute or two periodically down the road, just long enough to soak us again after we'd dried. But after 50 miles we finally rode onto dry land. It was a blistering start to what I knew was already an epic day.
The third timed section was 12 miles and mostly rolled, a relief, but it was followed immediately by the fourth timed section, at 30 miles, the longest of the entire weekend not to mention the most brutal. Though the third timed section only rolled, hills here are big. I survived the section in a 14–15 person group with Erik and Cyril and Athenian Oliver Quinn, who was at the front storming, stringing the group out single file with a punishing pull. Approaching the end of section 3 the road tilted up too steeply for me and I rode 1 K to the finish at my own pace while Oliver let loose on those that followed. WARNING: Oliver has bounced back from his knee injury in a big way! After a brief stop at the "feed station" I climbed a short hill and turned onto the Blue Ridge Parkway and began the 4th and last timed section, 30 severe miles on the BRP. I had climbed nearly 8,000 feet at this point and had ridden full gas for 35 of the 70 miles. I was trying hard to hold it together even though I was cooked so I kept pedaling and I climbed and climbed and climbed.
This 30-mile stretch on the BRP contains three stiff climbs that top out at over 5,000 feet and pass the entrance to the turnoff to Mount Mitchell, the highest point east of the Mississippi (6,683 feet), whose summit is 4 miles away. The road is steep right away and I was cast adrift from the strong group of climbers that had assembled at the stop and now I was solo with 30 miles in front of me and most of that climbing miles. I was blown and moving slowly so I tried to focus on enjoying the majestic ecosystem I was cycling through, the dense, green high-altitude trees and grasses, so different from the lower altitudes. It was apparent there had been a lot of rain as the trees, bushes and grasses were hues of dark green and were thriving. I kept moving forward, albeit slowly, and did ride through more mist and blowing wind, but after a couple of false summits, I did eventually go over the top and on the fast descent latched onto a rider who was flying down the mountain at a speed much faster than I could have ridden, so I enjoyed the ride and we flew down the fast, flowy contours of the Blue Ridge Parkway at 40 miles per hour to end the last timed section of Day 1.
We finished Day 1 by descending Town Mountain Road, the same road we would climb in the time trial two days later. The sun was now blazing and bombing to the finish at 35 miles per hour was a welcome respite from the day's travails, which totaled 107 miles, 10,700 feet of climbing, 65 miles of timed sections, and a total of 7 hours ride time. At the finish I was dirty, my clothes were caked with grit, I smelled fishy, my back was killing me, and my whole body hurt. Ruben greeted me at the finish and gleefully acknowledged he was the one who'd plotted the day's route and the admission confirmed he is a cruel and ruthless bastard. I jest, actually the day's ride was rated an "epic" and one I am glad I rode and happier I finished. I was situated around the middle in the Overall Rankings, close to the German. The Frenchman finished around 50th, in the top 25% in this young and talented field. The Frenchman was indeed in a league of his own.
I stumbled to the beer garden and took a seat in the shade beside other riders while we commiserated, each telling an epic narrative of personal heroism in the eye of a swirling storm. I usually don't like to drink beer during the day, but today I made an exception and after a single pale ale, the world was righted, and I was ready to fight again. Of course, first I wanted a massage (HR provides), shower, food, more cold local beer on tap later, sleep, and fresher legs.
That night Cyril and I found ourselves in a small Italian restaurant in downtown Asheville, Strada, where we each had an excellent pasta dish, a little red wine, a little local brew, and with satisfied stomachs, called it a day. The next morning when we woke up was like it was Groundhog Day because we got to do it all over again.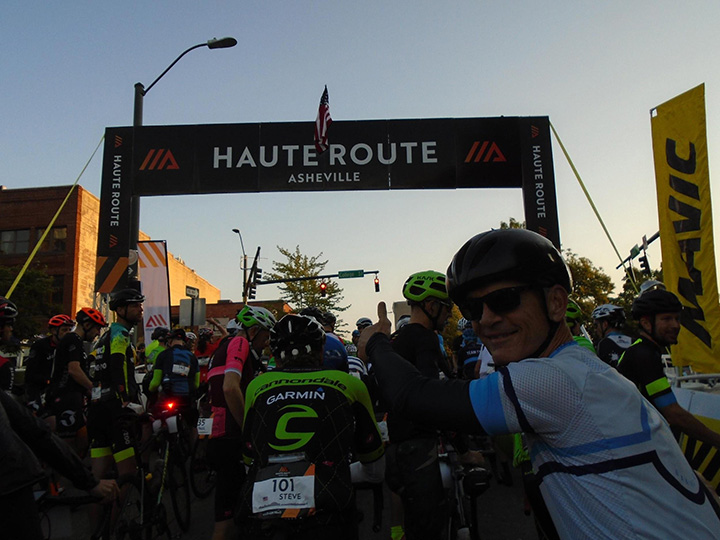 Asheville (Day 2)
Day 2 weighed in at just under 100 miles but by the time Cyril, Erik and I rode to the start and back we'd be over the century mark, and with a stout 9,000 feet plus of climbing on tap, this misadventure was predestined to be another epic.
The forecast called for plenty of sunshine and dry conditions, a welcome change from yesterday's early morning drenching, but again, at 7 AM when we rolled away from downtown it was cool and in the low 60s, but most everyone rode in short sleeves.
Today the first timed section didn't come until 25 miles in and we had the rare opportunity to cycle though Biltmore estates and right beside the French Renaissance Revival-style mansion built for the Vanderbilt family in the late 19th Century, which boats a modest 178,926 square feet of floor space. The estate itself is massive and we spent about 8 miles rolling around is smooth roads and through its cool thick forests rich in dark green tones. Trees crowded against the narrow roads and their big, leafy branches extended overhead as we rode beneath, four-foot high ferns with enormous fronds carpeted the roadside in certain sections, several dark water millponds were surrounded by tall green grass, and there was a large English-style nursery on the grounds—we were stuck behind the groundskeeper's truck at one point on a narrow, one-lane road. I rode beside the Boone Hammer Noah Nwinski and he said to ride through Biltmore was a treat even for the locals since generally it isn't permitted.
There were four timed sections again on Day 2 but they only totaled about 44 miles, 21 miles fewer than the day before. We climbed Newfoundland Gap, Crabtree Gap and its awe-inspiring 18% pitches, Elisa Gap, Betsy Gap and Doggett Gap, all some of the more sinister gaps in this ancient mountain paradise. I stayed within myself on Day 2 and was able to finish without blowing a gasket as I'd done the day before. Erik and I both moved up into the 80s in the overall while Cyril continued to impress with another stellar day and was sitting around 50th. I suspected by now that he was formerly a government assassin in the French Secret Service.
That night Gay joined me and we ate again at Strada and again feasted on authentic Northern Italy cuisine, local brew and red wine. Because I was "in the zone," I even drank one more than my limit of two, but I rationalized that I'd earned it. Plus, when in Asheville… I didn't count the beer from earlier in the day at the beer garden after the ride because that was a different time and place and counting starts anew in such circumstances. That night I dreamed my wife snored all night long.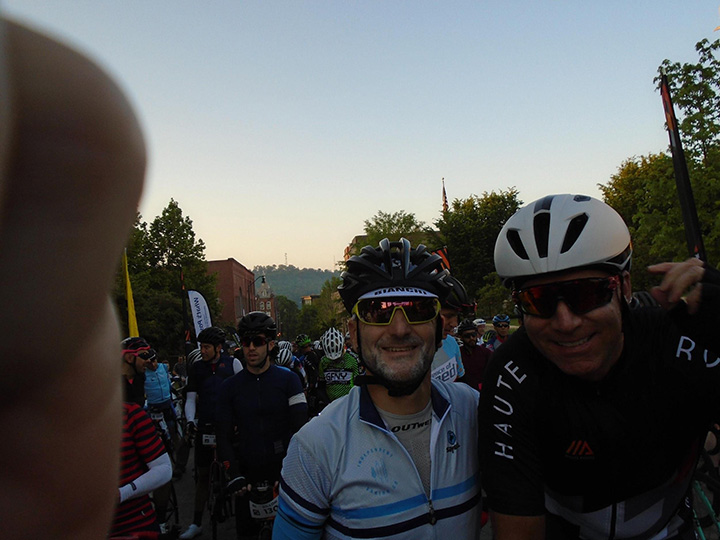 Day 3 (Asheville)
Day 3 was the time trial, a 5.6 mile climb up the famous Town Mountain Road, a time trial I'd done many times back in the days of yore, and one that had cracked me more often than not. The first 2 miles are steep, then the grade lessens out before kicking back up, then again flattens out as it approaches the end. The key was to stay well within my limits on the steep section and try and finish strong. I wasn't going to move up much in the standings and as long as I rode a decent time, I wouldn't fall away either. In a certain sense it was a day off…almost, but not quite.
It was another gorgeous day in Asheville and when I started around 8:30 AM it was starting to warm up. I did manage to stay within myself on the early steep section and even push a little in the big ring in the final 3.5 miles and finished without trashing myself or my legs right about where I was in the overall—low 80s. The German and I had similar times while the Frenchman put a minute into us. Most of the best climbers there, some of the best in the East, put 2-3 minutes on me so I was satisfied with my TT and satisfied with my overall ride. Noah Nwinksi finished in the top 10 overall, John Murphy and Oliver Quinn the top 40, Cyril and Daniel Holt 51st and 53rd, and Erik and I in the mid-80s. 212 started Day 1 and 168 finished on Day 3.
I came to HR Asheville for the epic rides and after three days, I was stuffed, like a fat man who'd finally had his fill at an all-you-can-eat after three massive helpings. But I still had one more plateful to eat, Mount Mitchell, another 103 miles and 10,000 feet of climbing in a new pack where everyone else had fresh legs. What in the hale was I thinking? What in the hale was I drinking?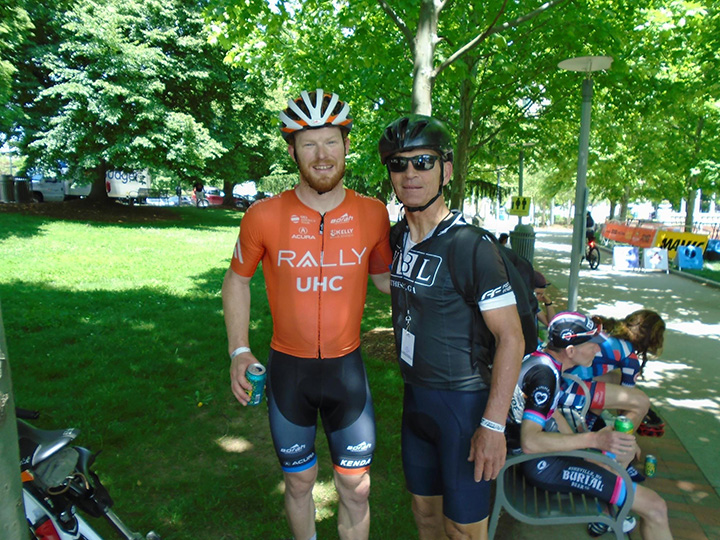 Mount Mitchell (Spartanburg to Marion)
Sunday after the time trial Gay and I ate breakfast in downtown Asheville—avocado toast and a homemade egg and bacon biscuit—and then drove 1-hour south to Spartanburg, where the Assault on Mount Mitchell would begin the next morning at sunrise. We ate at a local spot in downtown Spartanburg, Cribs, and dined on Southern comfort food: Macaroni and cheese, bacon cheeseburgers and French fries. I needed a lot of solace.
Actually, I decided beforehand I was only riding to Marion, about 75 miles, and would meet Gay at the Tom Johnson Campground when the pack rolled through. The whistle blew at 6:30 AM and though the pack wasn't nearly as strong as the Haute Route field, it made up for it with sheer numbers. The pack at Mount Mitchell is well over 1,000 so it's fast and furious at the start in order to winnow the wheat from the chaff. Michael Sencenbaugh was hovering around the front early, proving he was up to no good, and made an early break that stuck it for the entirety of the day, finally finishing in 3rd with a stellar time of 5:21.
Last year the group averaged close to 24 miles per hour to Marion but this year it was 22.5, a dramatic difference and a much needed break for my weary legs, though the group still did fly into a frenzy at certain hilly sections. Coming though Marion I managed to tag onto the rear of 16 others in the first chase group behind Sencenbaugh, though he and his cohorts were several miles up the road at this point. Pulling off into the parking lot as I reached my destination and realized the four days of intensity was over, I felt a tang of regret for not going to the top, but I simply didn't have the legs and now I have a target for next year.
I needed a shoulder to cry on as I pulled into the campground in Marion, and as always, my wife was there to provide it. I hope these 4 days climbing over 26,000 feet and riding 300 miles will benefit me on my Blue Ridge Parkway ride in 4 weeks, yet another grand adventure on life's golden highway, but that's another epic narrative yet to be written.
H.C
May (2019)