Haute Route Rockies 2018
Haute Route Rockies 2018
Thursday, 21 June
The Summer Solstice rolled around and Gay and I left the heat and humidity of Athens for the cool mountain air in Colorado—I was riding the Haute Tour Rockies, which starts on Saturday. The Haute Tour takes place over 7 days and is about 550 miles with over 50,000 feet of climbing. Several hundred riders will take part and I am riding with Phil Southerland, Daniel Holt and other Team Type 1 compatriots like myself.
Gay and I arrived in Boulder after a long day of travel and I picked up my bike at University Bikes on Pearl Street and then we headed out to eat out. We sat outside in downtown Boulder at a nice Italian restaurant and watched the people stroll by, a favorite activity of ours. Unfortunately, Gay stared a little too hard at a long tall fellow as he sauntered by down the sidewalk like he was a movie star filming a scene for Miami Vice. He had about 36 earrings, braided hair, a blue jean vest with no undershirt, and was smoking a joint, legal in Boulder. Gay was staring so hard at him as he walked by that he could feel her eyes boring into him so once he passed and was about twenty yards away, he turned around (she was still staring) and yelled, "What's the matter - you ain't never seen..." I couldn't understand the rest but he was angry and ripping into my betrothed, who was so embarrassed she'd been busted she stared down and turned radish red.
Finally I'd had enough and nonchalantly raised my middle finger and rested it on my chin. Bad idea, he came storming back and got right in front of me and started berating me and my "privileged lifestyle." The waitress and the manager came out and tried to push him away, calling him by name and telling us they were sorry, they knew him, etc. He finally left in an ill-tempered mood, but five minutes later he rounded the corner and began his verbal assault of me with a renewed vigor. This time management called the police and he eventually left after a little gentle persuasion. In the end, the nice Italian restaurant didn't make us pay for our meal or our drinks so I ordered a second beer—this was gonna be a great week. Still, the fellow was right, I am privileged, Haute Route is not an event for poor folks, although several pro riders entries are comped and other groups get significant reductions. But I hope that's not all I am.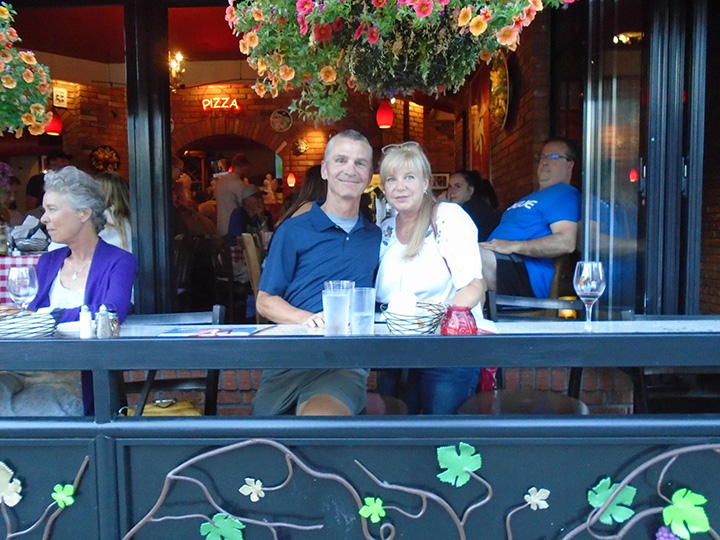 Friday, 22 June
One day until the beatdown begins so Gay and I decided to explore Boulder by foot. We first headed to the Boulder Dushanbe Teahouse, a teahouse built by master craftsmen in Tajikstan and then disassembled and shipped to Boulder and put back together piece by piece. The teahouse is modeled after those made famous in the Persian Empire and boasts an exquisite hand carved and hand painted vaulted ceiling, plaster carved walls and columns, and ceramic panels. It was a cool, quiet, serene and relaxing atmosphere and sipping loose leaf tea here made me feel like a sultan. I loaded up on specially blended teas and Gay and I decided we would come back to this spot in this funky, vibrant, active college town.
Boulder sits at 5,000 feet and lies at the foot of the Flatirons, five large mountains that are part of the Front Range, and they form a majestic backdrop to the city. A few of the peaks are still covered with a dusting of snow. Bikes are everywhere in Boulder, as are bike paths. Bike paths form a braided network in the city and twist and turn and bend into every nook and cranny, allowing folks to ride anywhere and everywhere, and they do. There are also dozens and dozens and dozens of runners, tennis players, climbers and mountain bikers—everyone looks fit and tan in this mecca of outdoor fun.
I picked up my packet and ran into old buddies Micah Rice and Darryl Prilliman, and later bumped into Phil Southerland and Daniel Holt, who'll be riding the Haute Route with me. I also rode a 30-mile ride with about 25 others, climbing the backside of Lefthand Canyon—the steep side—before ripping back into town. I feel tired at this altitude after travel and don't have the best legs, but at this point have no choice but to soldier on. Perhaps the worm will turn in a few days. We ate gyro wraps at a small Greek diner and hit the hay early in order to be ready for the party tomorrow.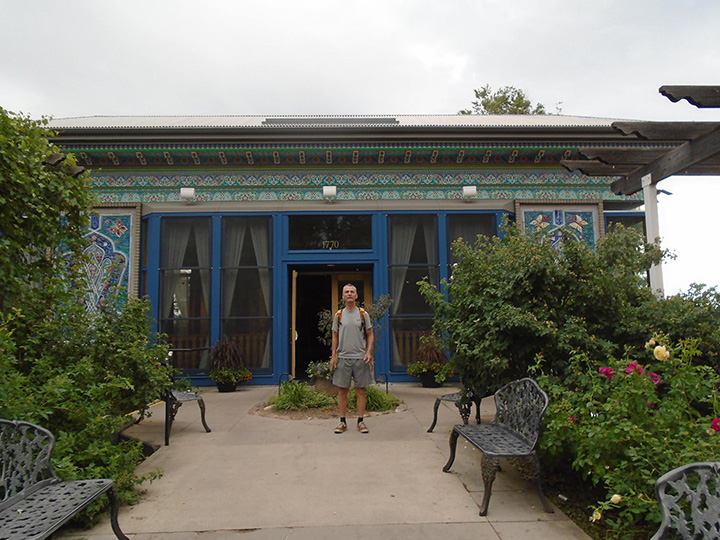 Saturday, 23 June
Today the Haute Route Rockies began in earnest, though the stage was only a sampling of what waited down the road. The stage was 70 miles with 6,000 feet of climbing over the course of four hours. We started at 7 AM on Pearl Street in downtown and on the outskirts of Boulder the road titled up as we climbed up one of the local riders' favorites, Lefthand Canyon. Only 8 miles in the first timed section began, a 13-mile ascent that would top out at over 9,000 feet and would surely cause a world of hurt. (Boulder sits around 5,300 feet in elevation.) The climb wasn't terribly steep at first and the grade was constant, but the tempo was torrid and ripped the group to tatters in only the first 2 miles. I was feeling okay and hung with the leaders for the first few miles but eventually the altitude cracked me, and at this elevation it's hard to recover.
As the climb twisted up the rocky mountain a fast-flowing creek moved down in the opposite direction, and though the temperatures were mild, the sun was blazing. I died a thousand deaths on the climb as groups caught and passed me as I tried to latch on—13 miles is a long, long way when you're suffering. But suffering and digging down into one's deep-water reservoirs is a worthwhile endeavor and can only steal one for the hazards down life's highway.
The road kicked up the last 2 miles as we climbed through Ward and passed dozens of cars parked on the side of the road—the road is too steep for driveways so the locals improvise. At the top we turned onto the Peak to Peak Highway and the second timed section began, a white-knuckle drop down the mountain for 10 miles that would see us reach speeds over 50 miles per hour. Not only are there some guys and gals who can climb here, there are some that can scorch downhill and the group I was in was descending so fast I was terrified—it takes a couple of long descents before I feel comfortable. Naturally Phil Southerland and Daniel Holt were two of the main instigators pushing the pace down the double-black diamond grade.
One reason I love riding in Colorado is the spectacular views and this descent didn't fail to please. The curving road sliced down a steep canyon whose rocky sides rose up in the air like granite skyscrapers. Again there was a rapidly flowing, whitewater creek beside us strewn with large rocks and boulders but this time we were following the tumbling water, allowing gravity to pull us down the mountain. Near the bottom the grade flattened, allowing me to take my hands off the brakes (not the bars), leaning to the right then left as the serpentine road snaked its way down the mountain, my movements fluid, feeling like the bike and I are extensions of each other. We covered 10 miles in about 15 minutes. Once I read an essay in which the author asked several writers when they felt "most free." For me, I had just lived the answer.
The timed sections came fast and furious on the first day and the third and final section, a flat 10-mile run, came only a few miles after the second finished—the route planners were making us earn our keep today. The third timed section unexpectedly opened with a hard-packed dirt road that twisted and turned, sometimes at a 90-degree angle, and the folks at the front were driving hard, knowing that dirt will cause splits in the group. But I was riding my gravel bike and was in my element in this section and I became more confident as the dirt continued to come—there were 4 dirt sections totaling about 4 miles. I sat in and sucked wheel during this stretch, trying to salvage what little strength I had left in my poor, pitiful legs, which had been treated rather ruthlessly on this opening stage. Rolling into Boulder, though it was only a 70-mile day, I realized I had spent far too much time in the red zone and I hoped my lackluster ride today was a result of not yet being acclimatized. Still, I was alive and ready to fight again the next day, though my legs might try and walk out on me.
While we rode Gay hiked 4 miles across the campus of the University of Colorado and up to Chautauqua Park where she looked out over the city. She rolled into the hotel room refreshed and invigorated and after a quick massage and second trip to the Danshube Tea House for afternoon tea, I felt rejuvenated and happy to be alive.
Sunday, 24 June
Today, Day 2 of the Haute Route, we left Boulder behind and headed into the belly of the beast, the teeth of the mountains, to our destination in Winter Park. The ride was 90 miles and included over 12,000 feet of climbing, monster numbers in anyone's estimation. There were three long, timed sections ranging in length from 10 to 18 miles. Today, I was determined not to blast out of the blocks, to resist the mistake of the day before and to stay within my limits, especially early in the day at the start of the first long climb only 5 miles in.
Sunny skies greeted us as we zipped out of Boulder at 7 AM in the morning but the threat of rain and possibly even sleet was high, so rain jackets, gloves and arm warmers were stuffed into everyone's jersey pockets. It was all smiles as we left Boulder, we knew this was one of the two marquee stages. The first timed section at Mile 5 was a 10 mile climb up and over Sugarloaf that gained 3,000 feet in altitude, a numerical clue that this is a steep, difficult climb.
Right away the climb was severe so it was easy to let the real climbers sail away and find a tempo within my limits. My Team Type 1 compadres Daniel Holt and the Boss Phil Southerland set a perfect tempo on the brutal climb, tapping out a comfortable rhythm, one that kept me out of the red zone, though I was bumping up against it at times. We settled into a comfortable tempo and eventually found our place in the line of riders moving up the mountain, and although we didn't catch too many in front of us, unlike yesterday, no one passed us. At the end of the first timed-section, I felt strong, a good sign.
The climbs in Colorado are different those back home in the holler. Where I'm from in Athens in Northeast Georgia, the hills come fast and furious but there are no long sustained climbs. Even an hour north in the lower Appalachian Mountains, the climbs aren't as long. Back home the terrain favors an aggressive rider, but in Colorado, patience is the key. Aggression on the lower slopes out west can lead to a severe case of the bonk down the road, not to mention, we were at altitude and would top out at over 11,000 feet.
The second timed section was a total of 2,500 feet of climbing spread out over the course of 18 miles and did include a few hair-raising descents and long dirt road climbs. The route planners here have no issue with sending us down a steep descent on a timed section and riders here are expert descenders willing to let go of the brakes and freefall down the road. After two days I am becoming more comfortable with the fast downhills but flying down a snaky road I'm not familiar with at 55 miles an hour is an experience like no other—it's both terrifying and thrilling at the same time. But because I'm on my gravel bike, the dirt road sections are a boon to me—my bike handles much better on dirt than a skinny-tire machine. Danny Holt and Philly again set a perfect tempo during the arduous second section, keeping the members of our Team Type 1 group together and riding within our limits. I again had a decent time on the second section, but more importantly, still had some mojo left at the finish. But we were climbing higher into the stratosphere, and the oxygen up here is at a premium.
The third climb over Berthoud Pass took us over 11,000 feet and was a 13-mile ascent with just under 3,000 feet of climbing, a startling amount of elevation gain over such a short distance. By the bottom of the climb the lactic acid had built up to alarming levels in my legs and once we hit 10,000 feet elevation, it was important to stay well within my limitations and survive to the top of this grueling uphill. On the climb it started to sleet but my rain jacket kept me warm and dry. Approaching the top the sleet became thicker and was wet but as I crested the summit I opted to keep going—it was a 7 mile descent down to the finish in Winter Park. Only half a mile down I realized I'd made a huge mistake. The snow and sleet were pouring out of the sky, visibility was poor, I was beginning to freeze, and I was creeping down the now slick, dangerous descent. Just before I turned into a frozen popstick, I hopped in a sag car that stopped and scooped me up. Only the first 20 made it down the mountain—the rest were shuttled down by city buses from town. We arrived frozen, but alive, happy to have survived this epic day.
I met Gay in Winter Park and that night we joined Phil and Company for dinner and had another fantastic time telling tall tales, lying, swearing, laughing and tossing back pints of truth serum.
Monday, 25 June
Today we left Winter Park and headed to Avon / Beaver Creek on a route that was 95 miles with 6,750 feet of climbing and plenty of hard-packed dirt roads. There were three long timed sections for a total of about 45 miles, guaranteeing a day spent on the rivet. We rode beneath gorgeous sunny skies all day and though the temperature was chilly at the start (am warmers and vest), it warmed into the mid-eighties by day's end, meaning hydrating at these high and dry altitudes is paramount.
In the first timed section, about 15 miles in length, the group rode at a gentle tempo for 5 miles then hit a long dirt section and the pace immediately ratcheted-up and the group of 200 was spread out single file. My gravel bike with wide tires handles superbly on the dirt and the road undulated instead of climbing severely so I was able to stay in a group fairly close to the leaders. We rode on dirt roads in valleys through rocky, high-walled cliffs and in other areas though massive swaths of arid bowls and vistas covered with low-lying scrub bushes. After the first timed section we rode double pace line a la WBL for about 15 miles until State Troopers put us single file and then the strong bucks at the front flew over fast, flowy roads. We knocked out 20 miles in about 50 minutes without digging too deep.
In the second timed section, 23 grueling miles on more dirt, we swept through Granby and Kremmling and climbed the iconic Trough Road, a classic Colorado scenic byway with incredible views of the Blue River, the Colorado River and mountain peaks in the distance still covered with a dusting of snow. I was feeling more confident on the descents and was even flying down a few, even on dirt. I was riding comfortably and within my limits in a group of about sixteen when my chain flew off on a bumpy downhill and wrapped around my pedal, forcing me to stop. Darn! It took the Mavic mechanic 20 minutes to repair—he had to eventually take the chain off to undo the knot. I didn't really care about the time loss but I lost my "group" (Phil and Dan, etc) for the rest of the day because although we regrouped at the feed zones, I knew they weren't waiting twenty minutes. So I just tried to enjoy the next 12 miles as I soloed—the countryside was stunning and I picked up a few friends on the way.
In the third timed section we started with a nasty 7-kilometer climb and I was able to latch on to four others of similar ability and we ascended together at a pace that had me red-lining but I dug deep and played every mind game I could and somehow held on over the summit and then we dropped like a bowling ball for about 10 kilometers. These fellows were hauling down the climb and I had no choice if I wanted to hang on but to fall off the wall with them. We finished this third section with a strong time.
The course marshals, the Colorado State Troopers and the Mavic Sag cars are top notch professionals and provide exemplary service. And riding with Team Type 1 is another added benefit—we have our own sag cars and which are stocked with ice cold water bottles, first flight mechanics and anything else a rider may need. I am indebted to Phil and his amazing team and it's always a good time when the team eats dinner together—we drink high octane beer, sip fine red wine, eat good food, laugh, joke and enjoy each other's company. Days are tough, nights are fine, and life is fine.
Tuesday 26 June
Today we rode a 10-mile time trial, a nasty climb with about 2,000 feet elevation gain with pitches of 12 percent. It was a slow, painful effort up the severe climb but I was finished by 11 AM and Gay and I relaxed at the Westin pool with other Team Type 1 folks the rest of the day. Gay met another wife of a team rider, Ansley Martin, who is originally from Athens—she and Gay know many of the same folks—it truly is a small world. My body enjoyed the time it spent horizontally inclined and I also soaked in a warm, outdoor jacuzzi and enjoyed a top-notch massage from the Team Type 1 masseuse. We ate early at a local pizzeria and hit the hay early so we'd be ready for the big day to Breck tomorrow.
Wednesday 27 June
Today we rode from Avon to Breckenridge, distance of 95 miles with 8,500 feet of climbing. On the way over we climbed Freemont Pass and Tennessee Pass and rode through the famous mining town of Leadville where the famous Leadville 100 will take place in less than two months. Leadville lies above 10,000 feet and we didn't dip down below 9,000 feet today, staying between that lofty elevation and 11,300 feet when we topped out on Freemont Pass. I felt strong today and rode with good groups all day. That evening we celebrated with the entire Team Type 1 contingent in downtown Breck. We were joined by old time buddy and former Athenian Todd Henriksen, who now resides in Colorado, and we tossed one back in memory of his days riding in the WBL. Great times were had by all.
Thursday 28 June
Today was the queen stage, a 113-mile loop that started and ended in Breckenridge on the street in front of our condominium—I could look down on the scene from my window. The route climbed 12,000 feet and included an intimidating four timed sections, each one an hour or more in length. We would hover between 10,000 and 12,000 feet most of the day.
We started at 7 AM and rode right down Main Street in Breckenridge and downhill towards Dillon, but we took a quick right and immediately hit a short but sharp 2-mile climb, Swan Mountain, that strung the pack out and caused rips in the fabric. Nearing the top, the lactic acid was sizzling in my thighs and I was cast adrift but rode within myself and stayed about 50 meters off the back and was able to power back up as soon as the road leveled out. But the lead group was already whittled down to 50 or 60.
In a short while we began the iconic climb of Loveland Pass, a timed section, which tops out at nearly 12,000 feet, the highpoint of Hatue Route so far. I rode within myself and with the pacing of Danny the Motor Holt, stayed comfortable and finished the climb feeling strong. It was the 16-mile descent down into Georgetown where I lost my nerve.
I thought I was descended fairly well by this point but the descent of Loveland was a different beast—it was a steep, straight drop down the mountain at harrowing speeds. Not to mention, at the front of my group, Phil the Thrill Southerland was diving down the road like a launched missile at speeds approaching 60 miles per hour. My group contained about 25 and we were the second group on the road; the high altitude super climbers, about 20 to 25, were up the road never to be seen again. I was riding at the back of the group on the descent and finally decided to let the others go, a crash at this speed would be deadly. I watched as my group flew down the mountain and out of sight, never to be seen again.
I eventually was scooped up by another group as we hit Guanella Pass, a spectacular, scenic, and difficult climb with steep grades that tops out at 11,600 feet. I felt good on the climb and still felt I had a little in reserve over Kenosha Pass, but I was by myself for long stretches. There was a ferocious headwind at mile 80 as we approached Fairplay but luckily, I fell in with a 10-person group that was rotating. We rolled through Alma and to the base of the last climb Hoosier Pass and I slowly made my way up the 4-mile climb before descending the final 10 miles into downtown Breckenridge. After 8 ½ hours of riding, the queen stage was behind me and when I rolled across the line there was no better sight than my wife's smiling face.
Friday 29 June
Today, our last, we climbed Pikes Peak, one of the iconic fourteeners in Colorado, and a relentless, unyielding, windswept 12-mile grinder with little respite that tops out at 14,115 feet. Though the day was only 55 miles long, we climbed over 7,000 feet, all in the first 27 miles, which could only mean we'd be riding up something resembling a sheer granite wall the first half of the ride. The Pikes Peak climb was one for the ages, one that imprinted a permanent mark on my memory, and one of the hardest climbs I have crawled up in my life. The first 3 miles are gentle but then the road kicks up to angry grades as it bites back into the mountain in order to gain a toehold at an upper elevation.
The blacktop seems to wind upwards forever but it finally climbs up onto the last plateau before the summit and I could see the final 3 miles, a series of switchbacks carved into, and snaking its way up, the side of the mountain in a series of tight, sharp switchbacks. By this point, 9 miles into the climb, I was above tree line and the wind was gusting around the mountain at speeds approaching 50 miles-per-hour, even. Rounding one switchback the wind would slam me in my chest, pushing me out of my lane and forcing me to lean into the gale in order to stay upright. As I pushed on and rounded the corner and hit the next switchback, the wind would now lift me and blow me up the slope like I was coasting downhill. I continued in such fashion for 30 minutes and at the summit my good buddy Dirty D was ringing the cowbell and welcoming me with spirited shouts. I wept I was so happy to have this one under my belt.
At the top it was windy and 55 degrees, but sunny—we were lucky, conditions can be inhospitable at these elevations even in the summer. I was wearing arm warmers and a vest and after a quick look around the top and a few high-fives with other Team Type 1 friends, I said a prayer and dropped off the mountain. It was a 27-mile descent to the finish in Colorado Springs, there were no more timed sections, and I could relax, be safe and take my time.
The slope is flat-out steep the first few miles and I squeezed my brakes and my sphincter tight, going slow and taking no risks. Philly and Danny went ripping by and I didn't even try to tag on—I'd made it through the week unscathed and I was focused on finishing that way. Eventually the grade of the descent flattened-out and I was able to let go of the brakes and pedal, cruising comfortably at 25 miles-per-hour. And then the next thing I knew I was in downtown Colorado Springs standing in front of the county courthouse explaining to my wife on a borrowed cell phone why it wasn't my fault I missed a turn. I was about 10 miles away from the finish and she picked me up and we drove back. We sat around briefly and chatted with our new Team Type 1 friends, and after a last round of hugs, loaded up and headed for home. Gay and I drove to Denver, spent the night, and flew home the next day, my blood hopefully loaded with high mountain oxygen red blood cells.
We covered 530 miles and climbed 53,500 feet over the course of 7 days—this was surely a week I'll remember.